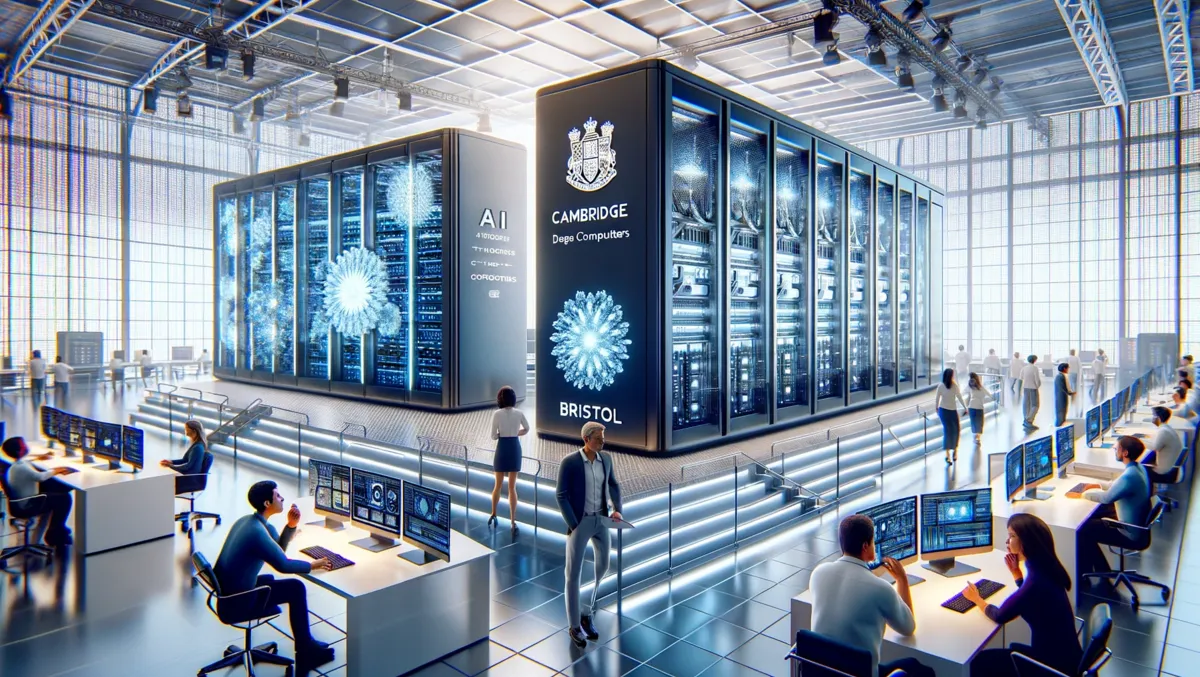 UK government triples investment in AI supercomputing capabilities
The Department for Science, Innovation and Technology, led by Secretary Michelle Donelan, has announced a significant investment in the UK's Artificial Intelligence (AI) supercomputing capabilities. A combination of two new supercomputers, based in Cambridge and Bristol, will result in a 30-fold increase in power, making it possible for leading researchers to explore safety, drive developments in AI, and facilitate breakthroughs in fields such as drug discovery and clean energy.
The two supercomputers will form the government's AI Research Resource, assisting researchers in maximising the potential of the most advanced forms of AI. The research tool heralds a new age of discovery and innovation, boosting the UK's AI-sector capabilities. Set to be operational by summer 2024, the resource aims to analyse safety features in advanced AI models and stimulate breakthroughs in drug discovery and clean energy.
The investment in the AI Research Resource has been tripled to £300 million, upped from the £100 million announced in March 2023, in an ambition to further advance the UK's AI capabilities. This investment will hone Britain's most sophisticated computer, Isambard-AI, hosted by the University of Bristol. By incorporating 5,000 advanced AI chips from Nvidia into a supercomputer built by Hewlett Packard Enterprise (HPE), the machine is set to become 10 times faster than the currently fastest UK supercomputer.
In addition, the investment will bridge Isambard-AI and a newly initiated supercomputer at Cambridge called 'Dawn'. Developed via a partnership with Dell and UK small-medium enterprise StackHPC, Dawn deploys over 1000 Intel chips utilising water-cooling to diminish power consumption. The computer, scheduled for operation within the next two months, is designed to facilitate advancements in fusion energy, healthcare and climate modelling.
The Frontier AI Taskforce led by Ian Hogarth, will have priority access to these connected computing tools. The taskforce will be able to address the risks posed by the most advanced forms of AI, including national security threats such as the development of bioweapons and cyberattacks. The resource will also back the work of the AI Safety Institute, promoting research into the safety of frontier AI models and supporting government policy with its findings.
Announcing this investment at the AI Safety Summit at Bletchley Park, Science, Innovation and Technology Secretary Michelle Donelan remarked, "Frontier AI models are becoming exponentially more powerful. At our AI Safety Summit in Bletchley Park, we have made it clear that Britain is seizing the opportunity to lead the world in adopting this technology safely so we can put it to work and lead healthier, easier, and longer lives. This means giving Britain's leading researchers and scientific talent access to the tools they need to explore how this complex technology works. That is why we are investing in building UK's supercomputers, ensuring our place as a world-leader in AI safety."
As an indicator of its forthcoming potential, the Bristol-based Isambard-AI supercomputer, initially announced in September, will be fuelled by a £225 million investment. It will operate at a lightning-fast speed that is 10 times faster than the existing quickest UK machine, capable of over 200 petaflops or 200 quadrillion calculations per second.